...and Kat and I were blessed with many expressions of
love and appreciation from our fellow Muse Authors, Editors, Publisher, and intrepidly brilliant Marketing Director.
It came after a period of intense confusion and dismay that I wrote about here, in a previous post.
http://linsownspeculations.blogspot.com/2011/02/loyalty-and-love-both-begin-with-l.html?zx=14dcc7ee86f9db74
I have, as I write this, an e-mail waiting for me from one of the people responsible for that confusion and dismay. I am not sure I want to open it...I don't want to deal with the vitriol this person feels so intensely within his soul...and yet...I am not nor have I been for a very long time, a coward.
Above this time-bomb e-mail was another e-mail waiting for me from a man who is a NY Times best selling author that saved my life just by writing his first book.
What a miracle it is to me that he now considers me a friend, and cherishes that friendship.
I sent him a e-card yesterday, with a personal voice note...that he had not found at first, until I asked him about it...here's what I asked...
I am so glad you liked the card...what did you think of my voice? You did hear it, didn't you? At the bottom of the card is a button to play it if you haven't already heard it.
It is well hidden...any of you that received e-cards from me yesterday, check to see if I sent you a personal voice note too. I didn't with everyone...I would have had to start scheduling them two days before Valentine's Day instead of just working on scheduling them all on Sunday.
ACTUALLY, if you got a card on Sunday, the odds are it HAS the voice note.
But back to my friend...I just received his e-mail response to the above...here's what he said...
Hi, Lin,
I'm so glad you called my attention to your voice message, I missed it the first time, didn't scroll down quite far enough, I can see. What a sweet voice you have! Indeed like a little girl--no, a
little angel
! Everything about you is commensurately sweet! And all your comments about the rage and madness in the world now, what recently happened to that poor Congress lady in AZ, I could not agree more strongly. The pervasive climate of hate--certainly it contributes. You're dead-on right, and don't let anyone tell you differently, my little angel Valentine.
All my heart to you and Kat,
Glenn
His first book, THE LAST DAY saved me when I was fighting cancer...again...and had reached the lowest point in the battle, the one where you just don't want to face another day, and when you surface from the unconsciousness and escape of sleep, seeing another sunrise makes your body weep from the center of your nuclei outward. There is no place that does not grieve that you still live.
I found THE LAST DAY at my library. I cannot tell you what made me grab it, but grab it I did.
From page one, I felt something inside me lightening, peace settling in where despair and emptiness lived.
I won't lie and say I did not have many more hours, days, weeks of gruelling treatments to endure, but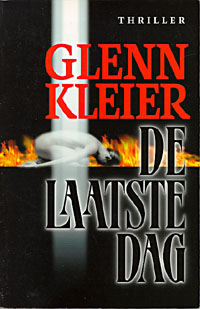 THE LAST DAY helped me see there was a light at the end of my desperate tunnel.
I owe this man my life, and now he brings peace into my heart and soul again.
I did a cover blog for THE LAST DAY and hope any of you reading this that haven't stopped by will honor me and all this man means to me, to please do so now.
I also want to alert you all that his next book,
THE KNOWLEDGE OF GOOD AND EVIL

will be coming out in July and I WILL be doing a cover blog for that too...and bragging about him up a storm.
There are special people in this world who are placed here to help remind the rest of us how special we are,
Glenn Kleier is such a person, and I thank God he saved my life and became a dear friend too.
I love you, Glenn and I love your wife for her makign it possible for you to give us your words of such wisdom and compassion. You have in me a groupie.